Transgender Dating Coach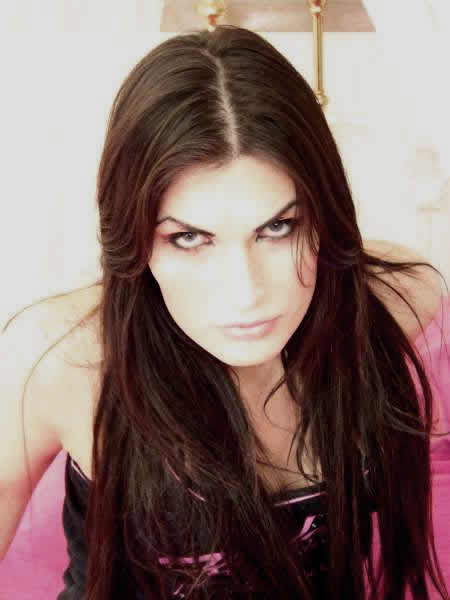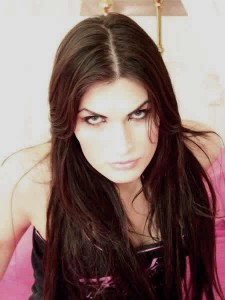 T-Girl Dating Coach Amber Lynn Tells How to Meet Transgender Girlfriends
Do you want to know how to meet Transgender Girls? Do you find your efforts are often misunderstood by the T-Girls you contact? Perhaps you joined a transgender dating site but can't get a reply. No need to worry. I have a unique understanding of what makes t-girls and their admirers tick. Often, it is just a matter of semantics or fine-tuning the approach that will make the difference with your transgender romantic efforts.
I've helped guys overcome their trans dating apprehension and shown them how to become successful in their romantic efforts. It isn't difficult, but there are some things you absolutely must know. Otherwise, you risk outright rejection and you may not even realize why. All that is about to change!
Would you like to be the guy every T-Girl wants to be with? Do you want to meet a very special T-Girl and develop a long-term relationship? I'm here to help you succeed even if you have failed before. It comes down to supply and demand. There are many more admirers than t-girls, so you need to take just a few steps to make sure you stand above the other transgender admirers.
Many men with all the best intentions have been turned away just because they said the wrong thing. There are a few things you need to know before you jump headfirst into trying to find, attract and seduce T-Girls. Knowing these little tidbits may make the difference between success and failure!
Amber Lynn on Facebook
Check out my social media posts on Facebook where I post news and a variety of topics. Please like my page and participate in the discussions. Let's stay connected!
---
Transgender Girlfriends Chat & Social Network
TRANSGENDER GIRLFRIENDS COMMUNITY
Join thousands of transgender community members and friends. Browse profiles, look through photos and join the live chat. Transgender chat and social networking is a great way to explore your place in the transgender community. Come join us in a safe, welcoming environment and meet new friends! We have chat rooms designed specifically for the transgender community and trans support rooms so you can join us for a comfortable chat experience among people who understand you.
TRANSGENDER GIRLFRIENDS ADMIRERS
If you're an admirer or want to engage in naughty chat we have you covered too. Just sign up and look in the chat rooms list for adult-themed rooms just for you!
TGGuide.com has created a chat room and social networking platform with something for everyone. We don't have a lot of chat rules but we need a few to be sure the chat flows smoothly. Please read through the chat rules and make sure you follow them. Join the conversations and get to know everyone. There are some great transgender folks and community friends who will be happy to chat with you. Click here to sign in or join transgender chat – it's always free!
Transgender Girlfriends Chat – You Must Agree To The Rules Stated Below
Transgender Chat Rules: The transgender chat room is frequently monitored by moderators who may or may not identify themselves as staff members. You must abide by their instructions at all times. We try not to be overbearing but some simple rules are needed to ensure a sense of safety and a free flow of live chat.
1. You must be at least 18 years of age per the site rules.
2. Name-calling, harassment, racism, bigotry, and general disrespect towards other chatters is not permitted.
3. Do not publicly or privately post any personally identifying information or private conversations.
4. Conversations involving politics and religion are allowed only in the Politics and Religion & Spirituality rooms, respectively.
5. Arguing with chat moderators is not permitted.
6. Please block members who cause problems or with whom you have personal issues.
7. Do not post Craigslist style ads in the lobbies. (eg. 24/looking for phone or cam fun. etc.) Use topic rooms for these kinds of chat requests.
8. Do not spam or flood the room.
9. Cybering in group/public chat is only allowed in the adult-themed rooms.
---
My trans photo galleries
I have uploaded so many photo sets that you can't see them all in the drop-down menu. You can click the link to view links to all of my trans photo galleries.
---

GUYS WHO AREN'T ATTRACTED TO TRANS WOMEN
Are they transphobic?
From a Facebook discussion
No, of course not. They are just missing out.
😉  We all have our own preferences when it comes to sexual attraction. That's fine and it's normal. You can still be a trans ally even if you're not attracted to trans women. You may be asking, what brought this on?
Well, a right-wing publication recently ran a highly biased article asking whether those who are not attracted to transgender people [implying cisgender, hetro] are transphobic. They were making the claim that the trans community (they believe we are a huge conspiracy) would have you believe you are transphobic if you aren't attracted to trans people. The reality is that life is never quite so simple. As humans, our attraction to certain genders and types is hardwired. We don't seem to have much control over who we're attracted to. Regardless of whether we are attracted to certain people or not, we don't have to be a bigoted asshole about it. We do have control over that. 
---
FREE T-GIRL DATING GUIDE (PDF)
There is no one size fits all approach to romancing T-Girls. Don't worry, I'm going to give you all the insider secrets to make you irresistible to most of the T-Girls you will meet.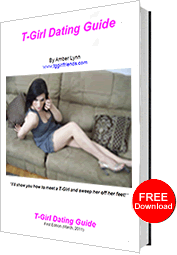 My free T-Girl dating course is now available. I created this as a guide to meeting and romancing T-Girls. I'll tell you where to meet T-Girls both online and offline, how to make your approach and opening lines, the correct terminology to use and how to sweep your special T-Girl off her feet.
The Dating Guide is now available in PDF for download or online reading as a PDF. Just click the image or link to view. It's all absolutely free and I'll share my personal thoughts, insights into the T-Girl world.
If you don't mind, I'd love to hear your comments. You can post a message in the comments on this site or visit me on social media by following the links in the sidebar.
---
T-Girl Dating Guide: Comments from Readers
"Amber, just so you know ….. I've been sending fellas to your site for some time now. It's kinda like, check this out BEFORE we go out. 🙂 … I am what I call myself a high self-esteem crossdresser. Once I got that part figured out my dates got better. But yes, your site is a wealth of info for them and us. Now I don't tell them to f off as quick. lol, I send some of them your link and see if we can get on the same page together." ~ Dana D (Facebook Friend)
"Hello Amber. Yes I did receive the guide and it was very helpful. It helped me understand the terms used a lot better. It seemed to be a lot of common sense as far as how to have a conversation with a special girl. I am not looking for a man nor do i want a man so it was really nice to know that the way i talk and treat a woman normally is what is expected. Thank you for taking the time to compile a guide like that for guys like me. I had been in the admirer stage for a long time and am now ready to pursue my first experience so it was very beneficial to me. Now is the hard part I am finding out, meeting the right girl for me. So thank you again and wish me luck. I look forward to reading your future emails." ~ Ray
"I have downloaded the dating guide, and it's great! I consider myself to be a smart and respectful guy, but you have enlightened me on so many things. Some of the thoughts and problems gals face I wouldn't have ever thought about. I really appreciate someone with so much insight sharing it with everyone. You are really great for putting all this info out. Sorry if I sound like I am gushing, but you really are owed a ton of gratitude for all the work you put in. Also I cannot wait to see some new pictures!" ~ Danny H. (Facebook Friend)
---

Scan or Click This Bar Code to Visit My FaceBook Page
T-Girls are special! We generally adore our femininity and love the attention we get from male admirers. The problem is that so many guys don't realize there are different types of t-girls and we all have our different personalities, needs and desires. Consider the fact that under the umbrella term "transgender," there are those who identify as crossdressers, pre-op & post-op transsexuals, transvestites, shemales, drag queens, transgendered and intersexed. Like the general public, some are strictly heterosexual while others are bisexual or homosexual. The problem for gentlemen admirers (and I know you're all gentlemen…. right?) is that they often don't tailor their approach to fit the t-girl.
---
Interview with Caramel's T-Girls
I was interviewed by my new friend Caramel from Caramel's T-Girls. She asked some great questions. You can read the entire interview with Caramel at her website.
---
Meet More Local Trans Friends!
Take the time to spoil yourself. You deserve a break from the everyday grind just as much as anyone else. Find some new friends, chat with new people and maybe find a love interest.