Amber Lynn TGirl's Home Page!
by Amber Lynn, TGirl Dating Coach
Welcome to my tgirl blog and personal site. I am a writer, model and transgender dating coach. I am pre-op transsexual but prefer to just call myself a tgirl. I am on hormone replacement therapy and have breast implants which greatly enhances my ability to pass as a female. I seem to have a natural femininity. I hope you will agree…
Have you met your perfect tgirl? I created the tgirl dating guide for admirers of tv/ts/tg women. It's a general how-to guide that helps admirers avoid many of the common stumbling blocks in building positive relationships with us tgirls. How about you? Have you met your perfect tgirl? Do you want to tgirl blog here on this personal site where I'll share some glimpses into my world — both the positive and negatives that influence my life. I'll also share insights on the subject of tgirl dating and romance, along with questions and answers I receive from my mailing list members and other web visitors.
---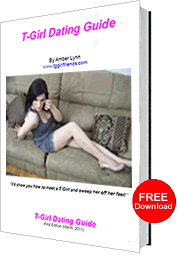 My free TGirl dating eBook is now available for instant download. I created this eBook in response to my own dating experiences with men who just didn't get it. Most of them were great guys but they just didn't know how to interact with transgender women. I'll remove the mystery and tell you where to meet tgirls both online and offline, how to make your approach and opening lines, the correct terminology to use and how to sweep your special tgirl off her feet.
The dating guide is now available for instant download when you subscribe to my personal e-mails which I'll send out occasionally. It's absolutely free and I'll share my personal thoughts, insights into the tgirl world and you'll receive some special photos of me and my trans girlfriends.
Due to the adult nature of the e-mail content you must be over 18 years of age to subscribe. I will never share your e-mail address with anyone else and you'll never get spam messages from me. There will be an unsubscribe link so you can opt out of my personal e-mail messages anytime you want but why would you want to do that? ; )
Please sign up for my mailing list and your free copy of my TGirl Dating Guide!
Share and Enjoy